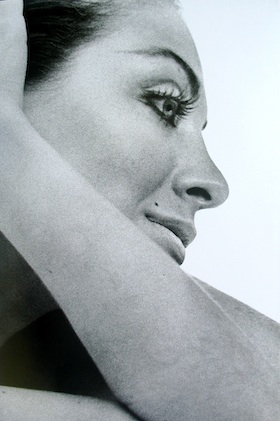 In this picture from my modeling days, my skin looks lovely and clear. I have to say though, that it wasn't always like that.
Even while I was rushing from one photoshoot to another, I lived in dread of my skin erupting into an outburst of acne at just the wrong moment.
In the end though, it was an unwelcome breakout that led me to a really satisfying solution…
SERENDIPITY
I had been hired by the German magazine Der Spiegel for a swimsuit feature, shot in the Dead Sea. The day before the shoot, I broke out in spots. My face, my neck, my chest. Oh no, oh no.
I slapped heavy makeup over my pimples, and hoped for the best. But, as soon as the art director had us move into the water, the makeup all washed off. I was quietly mortified.
I WATCHED MY SKIN HEAL
But then, as soon as it was immersed in those biblical waters – rich with salts and minerals – my skin just started to heal! In ten minutes the skin of my chest was smooth again.
Tentatively, I patted the water onto my face. Almost immediately, that skin too started to calm and soothe. By the time the photographer was ready to shoot, my skin was completely clear again, and no-one had ever noticed otherwise.
It felt like such a miracle, and it woke me up to the healing power of mineral salts.
A PERFECT EXFOLIANT
Mineral salts do so much more than just slough off dead skin cells. They are antiseptic, and leave your pores clean and clear, so your skin can really breathe.
Dead Sea salts are great as a detoxing bath, but they are a little rough as an exfoliant if you have sensitive skin like mine, so I researched gentler options. I discovered the gorgeous fine-milled salts of the Breton region of France, and the prehistoric desposits of Rose Salt from the Andes.
The French use the heat of the summer sun to dry sea water, in timeless clay-lined pools, before they stone-grind the evaporated salt into a fine powder. They have known of its beauty benefits for generations, and French spas are renowned for their therapeutic use of these fine, natural salts.
When I developed our  Exfoliant Supérieure Refining Treatment I was so happy to combine these beautiful salts with soothing Aloe Vera, cleansing Jojoba Oil, and other natural emollients, to make a deeply cleansing and nourishing exfoliant which is suitable even for sensitive skin.
You can click here to learn how to give yourself a spa quality treatment with this exfoliant. I think it is one of the most important things you can do for the beauty of your skin and complexion.