Our skin is extremely susceptible to weather changes. When the temperatures drop, so does the hydration in our skin. Fortunately, lack-luster winter skin can be a thing of the past. With premium, high-grade organic care, your skin can transform from stubbornly sensitive to silky smooth.
Cleansing with Oils
Cleansing with the proper ingredients is an essential step to avoid dry, rough skin. Replace harsh, foaming cleansers that strip your skin of its natural oil layer with an oil-based cleanser such as our Balm Supérieure. It will thoroughly cleanse while replenishing much needed hydration. The moisture magic doesn't stop there. This multi-tasking wonder takes beauty to the next level by nourishing thirsty hair and weakened nails as well.
Moisturizing
The colder the weather, the less moisture is in the air. This causes transepidermal water loss, a major contributor to dryness. That's why skin needs more moisturizing in winter than at any other time of year. The right moisturizer will help instantly. Oil-based moisturizers are the best choice. By adding an organic oil-based moisturizer such as  Crème Supérieure, you can restore much needed moisture and provide a stronger barrier to the elements. Discover why our best-selling anti-aging moisturizer will become your skin's long-term love affair.
You can easily tell if your moisturizer is working for you. It should plump up your skin and make fine lines disappear – right away. The most obvious sign is that your skin will feel silky-smooth and look radiant. With time, these immediate results should continue to improve. -Gaelle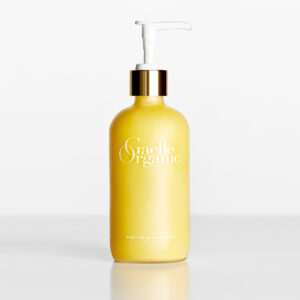 Body Care
Nourishing the body with an oil-rich elixir such as Body Crème Supérieure is an excellent way to replenish moisture and prevent dry, irritated skin. After bathing, envelop the entire body in luxurious emollients that lock in moisture from head to toe. The hydrating organic oils and extracts of edelweiss, rosehip and jojoba will soften and revitalize the skin for lasting radiance, and provide shower-to-shower relief from dry skin.
These three simple adjustments will help to remedy winter's drying effect and reveal a healthy, hydrated glow. Completely winterize your beauty ritual with our highly anticipated Winter Radiance Bundle– a revitalizing trio of Gaelle Organic Petites hand-picked by Gaelle. These complimentary travel-friendly products are her winter favorites to visibly hydrate, smooth and restore luminosity.