Litsea essential oil, anyone? You may not have heard of it but you probably have used all kinds of preparations containing it. Unfortunately it is typically used in a heavily processed form, where it has been fractionated and chemically converted to citral, a generic fragrancing ingredient. Or, for that matter, lots of products use flat out synthetic citral, derived from turpentine or petroleum.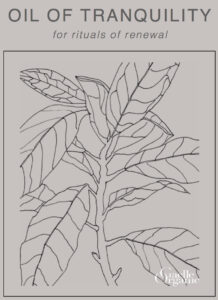 In its natural whole form though, litsea cubeba essential oil is a lovely ingredient. A few drops in the right formulation give a softly enticing citrus scent. Fresh, sweet, and lemony, like a softer version of lemon verbena.
It is known as the 'Oil of Tranquility' and aromatherapists use it to promote relaxation, mental clarity and restful sleep. On a mystical level, it is said that it helps to reconnect us with the wonder of childhood – the magic and the mystery and the fun – and that it taps into the spirit of rejuvenation. It is recommended for rituals of renewal and festivals during the transition of Spring.
As well as its lovely aroma, it has a cooling nature and a gentle astringency, meaning that it lightly draws the skin together and neutralizes any excess secretions. When used in skin care products, these properties help it to clear pores and reduce breakouts.
The litsea plant has been used in by Asian herbalists for centuries, and in Mandarin the tree is it is known as May Chang or 'mountain pepper.' Once the tree has shown off its fluffy yellow blossoms, little green fruits like peppercorns burst forth, which ripen through pink to a luscious deep purple. It's these berries which yield the precious essential oil.
Maybe it's time to give this fragrant botanical a try in its natural state? It's just one of the gorgeous ingredients in our organic Crème Supérieure and Soap Supérieure.