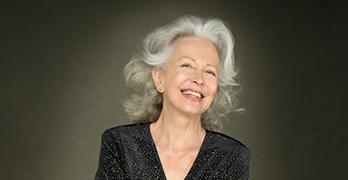 I'll be seventy next year, and my goal is for your skin to look gorgeous at thirty, fabulous at forty, radiant at fifty, glowing at sixty, and just flat-out wonderful at every possible age. That is what you should expect from anything you put on your skin.
Your beauty can truly grow with age and you can have fabulous skin all through your life, but it takes paying close attention to the quality of your skincare. Fortunately, as we grow older, we become more discerning, and realize that quality in all things is what counts.
CREATING FABULOUS SKIN
Women come up to me at events and ask what foundation I wear because my skin looks so "amazing." When they see that I don't use foundation, and that I am often decades older than them, then we have a conversation about what makes skincare really work. Genuine, organic quality is everything. The key is how to find it.
That's why I created Gaelle Organic. I know that organic skincare can create fabulous skin.
CHOOSING QUALITY
If you are not taking the time to read the ingredients, or if you accept on faith claims that products are "natural" or "organic," you may be using products that don't have the quality to give you the results you want.
"Trust and verify" is a good motto. I start by looking for the organic certification of the product. Does it just say it's "organic" or is there third party proof that it is?
INGREDIENTS
After that, l look at the ingredient list. A lot of organic skincare uses alcohol as a preservative, but it takes about 14% of the product to preserve it with alcohol. This is not an option for me, as alcohol is too drying for the skin.
The ingredients will be listed in descending order of percentages, so I make sure the good stuff comes close to the top.
GLASS
The essential oils that are delivered to us at Gaelle Organic never come in plastic containers. The same goes for other quality oils. Plastic does not preserve their integrity. Glass is a better way to ensure quality. That's why we package our products in glass. It is just what your skincare needs to keep it fresh and perfectly ready for you.
THE DIFFERENCE
Like most of what is worthwhile, beautiful skin comes from uncompromising attention to quality. Organic ingredients, formulas rich in quality and low in fillers, and packaging that ensures purity – those are the things that make the difference
Here's to your health and beauty!